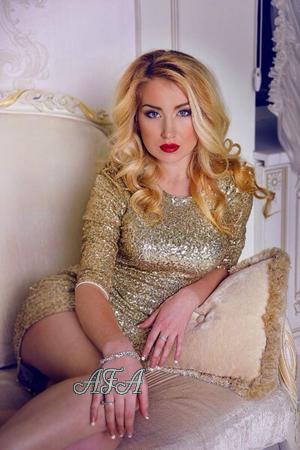 ID: 166366
Anastasiya
Ukraine
City:
Kiev
Age:
19
Zodiac:
Pisces
,
Ox
Weight:
110lb, 50kg
Height:
5'7", 170cm
Measurements:
37-24-35
Measurements cm:
95-60-90
Eye Color:
Blue
Hair Color:
Blonde
Marital Status:
Single
Children:
None
Religion:
Christian
Smoker:
No
Drinker:
No
Education:
University
Job Title:
Sports:
Pilates, fitness
Hobbies:
Photos, cooking, traveling
Languages:
Ukrainian (native),Russian (excellent)
Self Description: My inner world is open for you. I am optimistic and energetic woman, who knows what she wants from life and get a pleasure from every moment. I am a girl who likes simple things in life. I am kind and romantic, honest and soft. As every girl, I believe what miracles and love can do and I am looking for a man who will win my heart. I want to say, that I came to this site only with serious intentions and I am not interesting just in short communication and flirt. Make a step forward in my direction and we will try to create our own reality. Are you ready? Just do it.
Comments: Confess, I am so tired from loneliness. Of course, I can't say, that I am not a happy person. I have almost everything in my life: my lovely family, good friends, my favorite job, a lot of hobbies, flat, car. So, I have no just one - LOVE of my dearest man. And I hope to meet him here. I would like to meet a reliable, faithful, strong man with tough character with whom I would feel like behind the stone wall. He must feel what I want and, of course, I will feel, what he wants as well. I want to feel myself on seventh heaven from happiness, when I am in his arms. I want to know that if I stumble, there will be his strong hand holding me. I want to be sure that in this false world he will never betray me. Such a man I would give my heart for ever. I sincerely believe, that such a man is waiting for me here, and hope, that now he is reading these lines. Do you guess, whom I am talking about, mm?